"Makes you feel like you were there"
- RESIDENT OF LONG TERM CARE FACILITY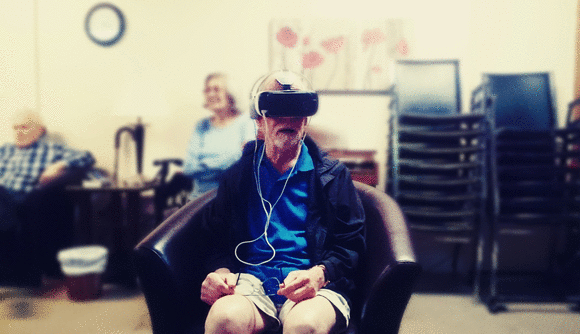 What We Do
Radio
Television
Now Virtual Reality
Virtual Reality represents the next wave in creative approaches to the many current products and services we use. In the coming years this technology will be used in the military, education, healthcare, entertainment, fashion, business, engineering, sport, media, telecommunications, construction, film and more. Owlflix Media uses virtual reality in partnerships with these organizations to provide fully immersive 360 degree videos and services. We're rapidly becoming a leader in virtual reality tourism presentations for Retirement homes, Long Term Care Facilities and Hospitals. Our constant participation in virtual reality University research projects has only added to our level of expertise in the field. After hundreds presentations we can safely say no other company is better equipped to meet your virtual reality needs.
Who We Are
As mentioned we currently partner with many organizations to provide virtual reality services. Whether it's creating immersive 360 degree videos, making presentations, participating in University research projects or consulting Owlflix Media is the right choice. One of our services that we're very proud of is virtual reality tourism presentations for seniors and long term care facility residents. Owlflix Media carefully creates and selects VR tourism videos that best suit the needs of our targeted audience. Participants with limited mobility or resources are brought through an immersive environment that is both fun and informative.
HEALTH CARE
Virtual reality video presentations are a fun way for residents of retirement homes and long term facilities to enjoy the technology in a comfortable setting .VR can also reduce instances of depression as residents see themselves immersed in a realistic outdoor setting.
TRAVEL
Take a walk through the magnificent lobby of the hotel while sitting in the travel agents office. Stroll along the beach watching the waves roll in gently from your living room. Use Virtual Reality to help make a more informed vacation decision a lot more fun!
training
360 VR training videos have the ability to generate empathy and inspire your employees. Many organizations are beginning use 360 VR videos as a way to train and educate people across various professions or groups.
Video PRODUCTION
On site 360 degree video creation, editing and post-production. Working with production teams from around the world delivering the best Virtual Reality content for our clients.
TRAVEL TO PLACES YOU HAVE ALWAYS WANTED TO
gianne willett | Co-Founder
What is Virtual Reality?
Virtual reality is an artificial environment that is created with specialized software/hardware and presented to the user in such a way that the user suspends belief and accepts it as a real environment.
.
Whats next?
Experience More